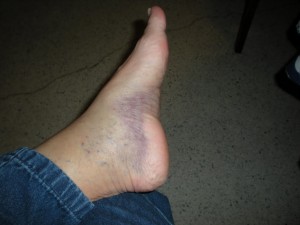 So, I went walking with the dog last Wednesday, because I walk faster when I take her. Except sometimes I walk too fast, and I don't see all the hazards of the road. And Wednesday, I wasn't paying attention to a place where the asphalt didn't cover the whole street, and made a little 2-inch curb. My foot rolled over, sprained itself, and I hit the ground. Rough asphalt made holes in my knees, etc., etc., etc. (There was bleeding.)
So I let the dog off the leash–she got a little running in, but she was very good about coming back home with me. (We hadn't gone very far before I fell.) I walked back home–I knew the foot was just sprained, not broken, because I could walk on it. The picture–that's the foot I didn't sprain. The other foot. It swelled up too, but not as bad as my right foot.
Anyway, I was amazed by the purpleness. The bad foot hasn't turned purple, but it swelled up pretty good. And hurt a lot. I have been hobbling the last several days, but today it's better enough I climbed all the stairs to get into the library.
Yes, I know. I need to give up this falling business. It's no fun. Back to exercising with the Wii.
Not much else to write about. I need to get back to writing this week. I'm kind of in a reading slump, so I need to write.