Heart's Magic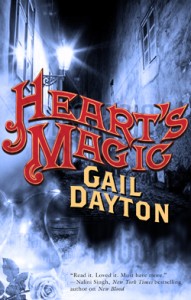 Beachside Publishing (e-books)
ISBN: 978-1-940730-06-6
Release date: June 3, 2015
Steampunk Fantasy Romance
As if Eleanor Tavis doesn't have enough to deal with already, given her upcoming challenge against the magister of the English wizard's guild, now she's developed this disconcerting attraction toward the man she's apprenticed herself to in her ongoing quest to become a full-fledged wizard.
Harry Tomlinson is not only an alchemist, working an utterly different sort of magic, but he's the magister of the alchemist's guild and about as unsuitable a person for a wizard's overseer as it is possible to find. But he was the only one willing to take her on as apprentice.
Then she wins her challenge, and her problems only multiply. The rest of England's wizardry seem determined to challenge her one by one. She somehow becomes the new wizard's magister and is forced to deal with politics. And even more frightening–Harry asks her to marry him!
Read an Excerpt!
---
Poor Little Rich Girl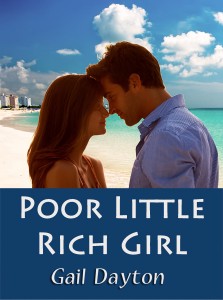 Beachside Publishing (e-books)
ISBN: 978-1-940730-03-5
Release date: November, 2012
Short Contemporary Romance
Kurt Collier wants plain Juliana Nyland for her social connections to just about everybody in Palm Beach. When he learns of her father's plans to–well, to sell her to the highest bidder–his white knight instincts are aroused. But when he meets her, all he wants is to claim Juliana's serenity for his own. If only he knew how to make her want to stay…
Juliana knows a Golden Man like Kurt would never want anyone like her, not without a little something-something (like her mother's family business) to sweeten the pot. She's pale and awkward and far from glamorous, but if she can just have him for a little while… Maybe it will be enough to create a lifetime's memories.
Can Kurt and Juliana create something real out of a 21st Century marriage of convenience?
Read an Excerpt!
Buy it from Barnes & Noble–
From Amazon–
In other formats–
---
Heart of Stone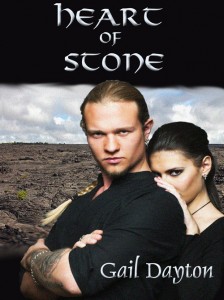 Beachside Publishing (e-books)
ISBN: 978-1-940730-02-8
Release date: January, 2012
Contemporary Fantasy Romance
The king's champion, Harald Aldred's Son, is sent to a strange and terrifying universe on a quest to save his world. Dragons are one thing; 18-wheelers are something else entirely. Shayna MacAvoy is trying to sort out her feelings about the sort-of proposal she's recently received when a bleeding man in black chainmail falls at her feet. The first aid she provides him becomes only the first step on a journey that will take them deep into the mysteries of magic, love, and honor. Harald's quest takes them across the farms, forests, mountains, and ancient lava flow deserts of Idaho on his search for the stolen Heart of Stone…
Read an Excerpt!
Buy it from Barnes & Noble–
From Amazon–
In other formats–
---
Knight in Black Leather
Beachside Publishing (e-books)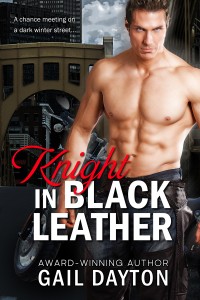 ISBN: 978-1-940730-00-4
Release date: November, 2011
Contemporary romance
A chance meeting on the dark winter streets of Pittsburgh brings widow Marilyn Ballard face to face with streetwise young biker Eli Court when he scares off a trio of wannabe gangsters. Later, she returns the favor, rescuing him from a beating, and their encounter becomes a chance to grow and heal from the pain scarring both their lives.
Marilyn's family disapproves of the relationship because of Eli's disreputable past, as well as their age difference. That past life–years spent in the deepest cesspools of the city–reaches out to pull Eli back into its depths, and he fears dragging Marilyn down with him. But she refuses to let him face his past enemies alone, even when his vow to protect a young boy exposes the still-open wounds of her heart, and puts them all in danger. Can they build a new life together, or will those long-denied secrets pull them under?
"Knight in Black Leather is now at the top of my list of books I adore and will read again over and over. Thank you Ms. Dayton for writing this book. Thank you. I loved it."
–Christine Klocek-Lim, November Sky Poetry
Read an Excerpt!
Buy it from Barnes & Noble–
From Amazon–
In other formats–
---
Heart's Blood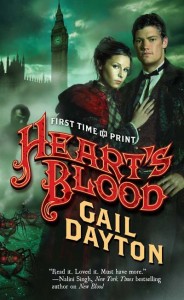 TOR Paranormal Romance
ISBN: 978-0-7653-6251-3
Release date: January, 2010
Steampunk fantasy romance
Master conjurer Grey Carteret regains consciousness in a London gutter next to a concerned street urchin and not far from the body of a man murdered by magic. Some fool is hoping to use murder to raise a demon. Arrested for the crime, Grey must rely on the street urchin for help. But the lad turns out to be a comely lass, and she wants something in exchange.
Pearl Parkin, a gently reared lady struggling to survive in London's slums, sees magic as a way out of the life she finds herself trapped in. But blackmailing Grey into making her his apprentice has unexpected consequences. As they plunge into the hunt for the murderer, Pearl discovers that the things she once desperately wanted are not as important after all, and that she must risk her blood, her heart and her very life to grasp the love she needs.
"This is a terrific historical urban fantasy starring two wonderful lead protagonists and a strong support cast…" —Merry Genre Go Round Reviews
Read an Excerpt!
---
New Blood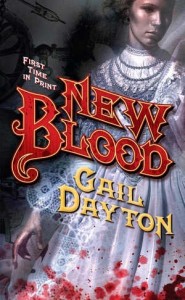 TOR Paranormal Romance
ISBN-10: 0-7653-6250-3
ISBN-13: 978-0-7653-6250-6
Release Date: March, 2009
In 1636, the last blood sorceress was burned at the stake. More than two hundred years later, her blood servant Jax has found her successor. Amanusa at first turns down the opportunity to learn what she perceives as an evil art, but she craves justice.
When Amanusa looses magic on those who've harmed her, she must flee for her life across a devastated Europe with Jax, who is inescapably bound to her by blood and magic. Their journey takes them through zones where everything–including magic–has died. Zones populated with strange creatures cobbled together from things left behind by the dead.
Needing each other for their very survival, Amanusa and Jax grow ever closer on their journey to discover answers–about magic, blood sorcery, the dead zones, and even love.
"Read it. Loved it. Must have more." —New York Times best-selling author Nalini Singh
"Dayton's skills as a writer are powerful, and this book would appeal to both fans of romance, and fans of fantasy, steampunk, and adventure fiction."
–Sarah Wendell
Beyond Heaving Bosoms: The Smart
Bitches Guide to Romance Novels
Read an Excerpt!
---
The One Rose Trilogy
---
The Desire Books