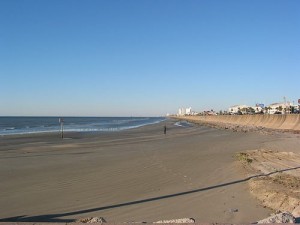 Let's start with The Beach Report.
Okay, so I mentioned briefly that a cold front blew in on Monday. BOY did it blow in! It got downright cold. And it blew all the water way out from the beach. WAY out. I haven't seen the water so far out since we moved here…almost to the end of the jetties.
If you'll look at last Thursday's blog entry, you'll see a shot of this same beach before the norther got here. Tuesday, when I went out, the water was far enough out, this guy (you can see him. The vertical dot that doesn't have a sign on top…) was walking over there.
This is a shot of the side of a concrete ramp that comes from the street down to beach level. I took the first one last week. This was at low tide, folks. (Don't know why low tide was so high that day. Wind, again, I guess.) And the second picture I took yesterday, from the water's edge.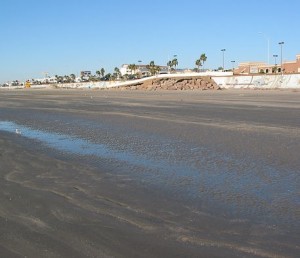 The second shot was also taken at low tide, but the tide was a WHOLE lot farther out than it was last week. Yeah, the shot is from the opposite angle, but still. It gives you an idea of how different the weather was. Of course, you can't see the cold, or the sharp wind.
Everything looked washed very clean. I walked out close to the water, and saw so little stuff (except for seagulls, who'd found something to chow
down on), that I decided to walk back at the high-tide mark, and found some cool stuff there. More pink barnacle shells, and several other cool shells. One was as long as my hand and almost as wide, very thin, and kinda irridescent, but it was sand-brown, so I didn't take its picture. Maybe now that I've washed it off… I did have to wash a whole lot of sand out of the barnacle holes.
The sand was cut into some really cool wave patterns. A lot of it was the usual washboard-looking stuff, with flat tops, but some of it was really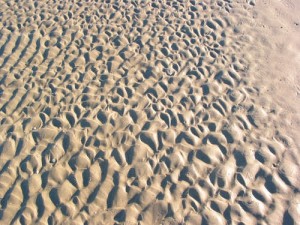 different. Diamond-patterned, or… maybe like tucks in fabric. I thought it was cool looking, anyway.
So, there's the "First Blue Norther of the Season" beach report. A bunch of kids went to school in shorts on Monday, and froze. (They had pictures in the paper.) It was cold Tuesday morning, and this morning, but by this afternoon, it was gorgeous. Really nice for my trip to the library. My knees were hurting from walking so far two days in a row, so I skipped the beach this a.m. and walked from the library to the post office downtown, this afternoon. Clear sky, warm & not too hot, nice breeze…perfect. And it's not but 4 or 5 blocks between the two. Had my lunch out at a nice Mexican restaurant over near the medical school.
Got quite a bit written today. New stuff, not just re-treads from the first version (which now that I'm reading it again, I can see the suckage). It's moving along. I'm liking it better. Like the characters better, like the writing better. Wondering when I'll get some of this exposition in, but you know? If it doesn't make it, I don't think it will hurt anything…
I also got a chapter critiqued for the weekend retreat. Now I need to search through magazines for some interesting pictures to pull out for the workshop I'm presenting. One of the original presenters had to cancel. I also need to crit three more chapters. Eep! It always takes me so long to do critiquing. I will be present for the critting, though, so maybe I don't have to write so much stuff…
There's another fancy dress Thing tomorrow night–not as fancy a dress, I don't think. Ought to be able to wear my black lace skirt and pink beaded jacket. Maybe.
I'll try to blog before I drive out Friday, but if I don't…I'll see y'all when I get back.
I'll leave you with a final picture…the shrimp boats have come in close to shore, with the falling temps. I could have taken a picture of several together, except for the sun's glare off the water, and by the time I moved away from the glare, they'd separated. Oh well…