There is no age limit. On either end.
Hello, my name is Gail and I'm a geeky fan girl. Woman. Whatever.
So, yeah, I didn't make it by last week. I tell ya, this dayjob is really eating into my time. Along with everything else in my life.
I did get 14 pages of Thunder in a Cloudless Sky written, enough to earn my charm this month. I think I've made it to the halfway point. This book may turn out to be 8oo pages. (sigh)
And I went to Austin over the weekend to try to help my parents get ready to move. They're leaving the big city Austin traffic for a little house behind my sister's in a little town about an hour away. I spent most of my time going through decades of pictures and sorting them into piles according to which sibling had the most kids in the picture. Then we bought photo boxes and put them in with divider cards, etc. Not hard work, in the least, though I did help carry a dining table down the steep driveway to a trailer. (That driveway is another reason for them to move–it's hard to climb up and down that thing!)
It just so happened that this weekend in Austin was the opening weekend of the South by Southwest film festival. SXSW is more famous for the music festival part of it, but the film festival is becoming more important. I think "Knocked Up" had one of its early screenings there last year–maybe its premiere. And this Saturday night, the midnight movie was the world premiere of a film with a villain played by an actor whose career I've been following for a lot of years. And since I was there…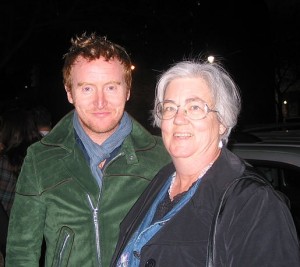 So I trekked downtown to see if I could get in to see the movie. And maybe, just in case, some of the people who worked on the film might possibly, maybe show up. Hadn't seen anything anywhere saying that anybody would, or even might, but what the heck. I was there…
Met up with a friend who's also a fan. Hung out on Sixth Street, listening to music and watching all the wannabes and gonnabes and already-ares mingling. And the guy showed up. And I got to chat with him a bit. And take a picture of us together, just to prove that, yes, I met Tony Curran. I don't care that you don't know who he is. I do. And I was such a totally geeky fan girl, I forgot 3/4 of the things I wanted to ask him. But I was there.
Try to guess what movies he's been in before you go off to look him up on the Internet Movie Database…
I didn't get in to see the movie. They let in people with badges before they let in the peons who only want to see one thing, and there were too many with badges who wanted to see it. At one point, someone came out asking whether there was any more press, and I almost claimed to be a stringer for the paper I work for… And I found out today that I should have, and that the paper would probably have published any story I wrote about it.
I have to go back this weekend to meet the folks at the house they're moving to, so I can help them unpack and get organized. The movie is playing again this coming Saturday night. I could go again, and get in to see it this time, and write an article next week… I'll let you know what happens. I may be too tired. I may go back home to my island.
I saw bluebonnets today, blooming on the island! Spring Is Officially Here. YAYYYYY!!!