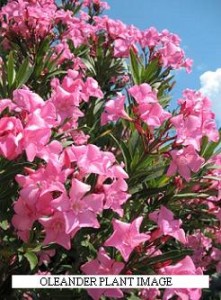 Summer just seems to be made for fun, bouncy songs. "Hot Fun in the Summertime" and "Under the Boardwalk" and "Up On the Roof"–they're all about summertime. They're all really old songs, (Not as old as "In the Good Ol' Summertime") but I don't know if any of the newer songs (I listen to Breaking Benjamin and Avenged Sevenfold, thank you, and even Lady Gaga, among others.) specifically mention Summer. The 60s beach party songs just seem to be suited to "summer songs."
Anyway–I'm not sure why I'm riffing on summer songs, except that it seems to have suddenly become summer. It was a cool spring, then all of a sudden–Wham! Ninety degrees and 900% humidity. (Yes, I know that's not technically possible, but…) And the oleanders have been blooming like crazy for better than 6 weeks now. I am very impressed. I mean COVERED with blooms. Plants almost solid pink, or white, or red. I'm amazed every time I drive down any street in town. (We have lots of oleanders because they are salt-resistant.)
And so far, I really haven't had time to enjoy the summer, so far. I've had to make a couple of trips to check on the Alzheimer-y parents. Then I caught a case of The Flu That Would Not Die. And it's just been really busy. I haven't even had time to go out for a swim in the Gulf.
Yes, I know the Gulf of Mexico is full of oil. But the oil is east of us, and so far, it hasn't come west. Haven't seen a single tarball, much less that oily gunky stuff, along the shoreline. I want to swim before we get any–if we do. The current runs east, not west. It's going to Florida, not Texas. I have a lot of sympathy for Louisiana and Mississippi and Alabama, and Florida, too. But I can't be sorry it's not coming this way.
So, yeah, it's summer. Lots of stuff to do, lots of places to go. So I'd better get my writing done, huh?