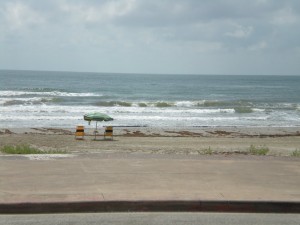 I took this picture last week, but I'm posting it today, because I haven't uploaded the pictures I took this a.m. when I went out to walk on the beach. It was pretty windy this day. Today, it was still, not much wind at all. But still fabulous.
There was a snowy egret out fishing on the beach. I gave it a wide berth so it wouldn't fly off, but I wasn't the only one out walking…still, it seemed pretty calm with 3 or 4 people out and about.
So, the fella and I have had our birthdays. We went to Saltgrass Steakhouse for his birthday and ate steaks, and to Landry's for mine, where I had shrimp fresca (because I love that stuff) and he had fish. Tilapia, I think. The oil spill hasn't seemed to interfere with the local shrimping, but I'm wondering if it's messing with the fishing. Haven't seen as much snapper or redfish lately… We are still discussing our birthday present. (We usually get One present, because there's all of 8 days between the two events, and we might as well.) I think we're going to get a refrigerator. As in, not getting rid of the old refrigerator, but adding one. We have a 30 year old freezer we're going to retire. (It runs all the time and uses a lot of 'lectricity.)
The fella has bought himself a pistol. He is taking the class to get himself a license to carry a concealed weapon (it's legal in Texas to carry concealed, not openly) (If you take the class and get the license), and you have to have a handgun in order to take the class. He's not taking it because he intends to carry the thing. But at the state capitol, folks with a license can get into the building without having to go through all the metal detectors and searching. (There is a logic to it…) And since the lege is meeting starting in January, and he has to be there frequently during the session, he wants a license. And while he is taking his class, I'm going to visit the parents.
I was talking to them today, telling them I was coming up to visit. I mentioned my daughter by name–and Daddy couldn't quite remember who she was. He knew she was family, but couldn't place how she fit in…and was totally embarrassed when I told him. He hasn't seen her for a year–they live in Pennsylvania and don't get back to Texas often–but, well, it's breaking my heart, and I hope we do get them to the end of the year in their own house.