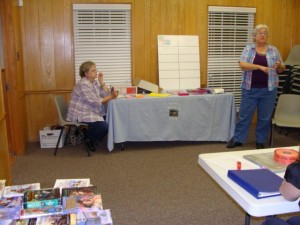 So, my friend Belinda came to town this week, and we did a workshop at the Houston Bay Area RWA chapter on storyboard plotting with Post-It Notes.
We do our plot brainstorming this way. It's very visual, and some of the HBA members had heard about it, but couldn't figure out how to do it. So we did a joint workshop and showed how we do it.
We probably don't do it like anyone else. B is a little on the anal side (she has a whole Justin cowboy boot box full of different colors of Post-It Notes), and I'm a whole lot loosey-goosey about things, so when we're doing our brainstorming, we get a lot of "You need some more internal conflict in there," from B, and a lot of "I'll just figure it out when I get there," from me.
Don't get me wrong. I DO plot before I write. I just don't plot very deeply. I want a one-page skeleton/roadmap to hang my story on. B, on the other hand, would plot right down to the individual scenes if she could do it. (Not that she can't, but she usually doesn't, because I'm fussing at her to "Write the dang story already!")
Anyway, we had a good time doing the workshop. We plotted a paranormal story, so we could have more plot threads to keep straight, and use more colors. But as one person said, it probably would have worked better if we'd done a plot from a movie–something well known.
It rained most of the time Belinda was here, but we did get to eat some nice shrimp, and went downtown to The Witchery on Postoffice Street so she could buy a crystal for meditating. The fellas–because B always comes down with hers (he doesn't trust her driving in Houston traffic)–went fishing while we did our workshop. They caught fish too, but gave them all away. I'm glad they had fun too.
And yeah, the visit with my folks went fine. The Alzheimer's is getting worse, so I'll be talking with their doctor in the near future to see what needs to be done. But this weekend, I'm being sorta lazy.