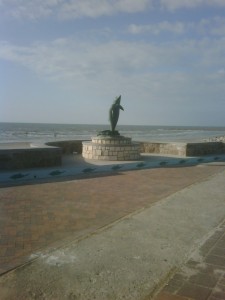 Today, I wrote a bio for the e-pub books I have planned. Why does it take so much longer to write this kind of stuff than it does to write story?
I also wrote cover copy/descriptions for the first one of the books. I'm getting friends to help me with it. But it's progress.
AND, it is DAY 8 (right?) on my writing challenge. I didn't get as much written as I'd hoped, because the boy was awake this a.m. and kept wanting to show me stuff. He did finally get the hint.
I also got started late with my writing projects, because I went out for a walk this a.m. and walked all the way down to the dolphin statue. It looks MUCH better now than it used to.
Frito-Lay donated a bunch of money to fix up the little seawall park there where the dolphin statue is. They've rebuilt the plaza, put in a bunch of planters and benches and solar-power lights and stuff, and will build a big shade pavilion once all the palm trees and plants are in the planter.

The summer after Hurricane Ike (remember that one? No? Yeah, well, Lehman Brothers went bankrupt the Monday after Ike hit on Saturday…) it looked really beat up. The storm surge washed all the sand and stuff out from under the concrete and beat it all to heck. I don't know if they poured and painted new concrete for the dolphin mural, or put back and repaired and touched up the old stuff. I looked today, while I was out, and really couldn't tell.
It's gorgeous out these days. Not too hot to get out and walk, a nice breeze off the water–and around here, not too hot does mean up to 90F/32C and a little above. Too hot is 95F/35C and above, here on the island, because it's usually accompanied by considerable humidity. It was around 85F/29C this a.m. when I was walking. We've had a cold front. But it's still in the 80s by 9 a.m. Our fall. My hibiscus are blooming like crazy, because it's not so hot and dry…
Yeah, sorry. Didn't mean to make y'all jealous…