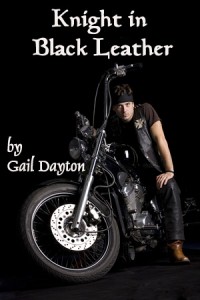 I have been busy, and I'm getting things done. I feel so accomplished today, and all because I baked a cake last night. (Well, sort of) But we'll come back to the cake.
The big news is that I have taken the plunge into the e-pub business. My first Gail Dayton book has gone live both at Kindle and Smashwords, and as soon as I get a move on, I'll have it up at Barnes & Noble.
Knight in Black Leather is the book that got me an agent. She and I both loved it, a bunch of New York editors said they loved it–but didn't know how to sell it. This is a contemporary romance. I wrote it before I took the plunge into fantasy and steampunk. I love my fantasy stories, but I also love me some contemporary romance. It's an older-woman-younger-man story, there's some suspense, some family conflict, secrets, angst, old wounds–all sorts of good stuff. And it's set in Pittsburgh. (The one in Pennsylvania, not the one in East Texas… That one doesn't have an H after the G.) Here's the cover copy:
A chance meeting on the dark winter streets of Pittsburgh brings widow Marilyn Ballard face to face with streetwise young biker Eli Court when he scares off a trio of wannabe gangsters. Later, she returns the favor, rescuing him from a beating, and their encounter becomes a chance to grow and heal from the pain scarring both their lives.
Marilyn's family disapproves of the relationship because of Eli's disreputable past, as well as their age difference. That past life–years spent in the deepest cesspools of the city–reaches out to pull Eli back into its depths, and he fears dragging Marilyn down with him. But she refuses to let him face his past enemies alone, even when his vow to protect a young boy exposes the still-open wounds of her heart, and puts them all in danger. Can they build a new life together, or will those long-denied secrets pull them under?
I hope y'all will give it a look-see. The first 2 chapters or so are up for y'all to sample.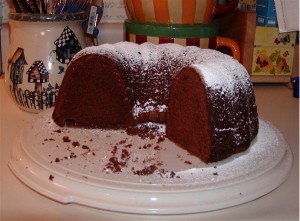 Now I can talk about the cake. It's been forever since I actually baked a cake that didn't come out of a box. The Mexican Chocolate Pound Cake from one of this year's issues of Southern Living has been tempting me for a while, but I don't usually bake, because I'm pretty much the only one who eats the stuff I bake (the fella can't eat it, if it has flour in it, and the boy isn't big on sweets), and I can't afford it. But I really wanted to try this cake, because, hey–it's Mexican Chocolate. And since I'm going up to check on the parents this week, I can take a big hunk of cake with me to share with them and not eat most (all) of it myself–I baked the cake. (The picture is not MY cake, but it's the same recipe…)
The batter was like tasting chocolate clouds. The cake cooked in exactly the time the recipe said it would (this oven runs a little cool), AND it came out of the Bundt pan! I have been fighting with that pan since it was new, 30-mumble years ago when it was a wedding present. (35? Yeah, I think that's right.) It does not often let go of cakes. It likes to keep back a good half of the cake, most of the time, and force you to scrape it out in pieces. But this one came out! Score!!
You're supposed to serve it with sauce. Chocolate sauce–Mexican chocolate sauce, in fact. But the sauce requires heavy cream, which I did not have. So I had to run to the store to buy some. And since I also had to run to the store to buy ink for the printer to print out pictures of the grandkids for the parents, I didn't mind so much, especially since Office Depot is just down the strip mall from the grocery story. I came out with lots of other stuff, too–fancy file folders, a file storage box, etc. And I just have to share a picture of one of the grandboys dressed up for Halloween. He looks like such a cowpoke… (That's a lollipop stick!)