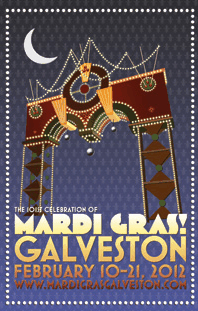 Typical me. I set a goal of posting blogs more regularly, and then I don't. But I'm back. Don't everybody get all excited at once.
I have to get up and find a box to pack my grandbaby's birthday present in (she's almost one!) and wrap it and mail it, but it's raining and I don't want to go out. Not even into the garage, the retirement home for boxes. But I will, because grandgirls only have a first birthday once. Before I do, though, I'm going to post this blog. I am determined to post it.
This is Mardi Gras weekend in Galveston. I don't think there are any parades tonight, but there will be parties, drinking and merriment downtown. I'm going to the local Boy Scout council Eagle Scout appreciation dinner, where we will have either barbecue or rubber chicken and appreciate this year's crop of Eagle Scouts. Bound to be better than all that hoorah-ing downtown.
Anyway, the thing that really motivated me to post this blog was the food we ate last night. We ate at home. You see, I went to Target yesterday afternoon to buy fish oil tablets and shaving cream and stuff, and wandered over into the new food section to see if they had anything interesting that I could cook for supper. I wasn't feeling inspired by the stuff I had in the freezer at home. And in the freezer section, where the fish and frozen shrimp was, I saw a package of crawfish tails. Suddenly, I was inspired and struck by a desire for some crawfish etouffee.
I realize that some might be put off by the idea of eating something with the nickname of "mudbug," that looks like a mini-lobster. Crawdads, as we used to call them when my brother and his friends would go crawdad fishing when we lived in Houston, aren't exactly seafood. They don't live in the sea, but–well, in the mud. Still, they are some mighty tasty eating, though I am far from a purist. I will not boil and peel them whole, or eat them whole. Somebody else has to do the peeling and picking for me. And lo, and behold! Here was a whole package of tails that somebody had done just that to, just for me.
Sometime last year, we went to one of our favorite restaurants–one just around the corner–and I ordered their crawfish two-ways dish, with etouffee and fried tails. And I was shocked to the bone because their etouffee was BLAND! It didn't even have much in the way of salt in it, much less that Cajun "kapow!" This is a good restaurant, with food we enjoy, but I had to break out the Tabasco and pepper to get it up to edible level. So, I figured I could come up with a decent etouffee, making it myself.
I brought my crawfish home and hauled out the recipe books. On a trip to New Orleans a couple of years back, I bought a cookbook called Best of the Best from Louisiana Cookbook, that culled the best recipes from the Junior League and church cookbooks across the state. It even has a recipe for squirrel in it. Really. I figured it would have etouffee recipes in it. I also have a set of cookbooks full of Southern Heritage cooking from the publishers of Southern Living magazine. I found three recipes for crawfish etouffee in the Louisiana book, and two more, plus recipes for crawfish bisque and crawfish stew in the Southern Heritage books. (The Louisiana book also has recipes for stew, pie, fried tails, Gouda crawfish (in puff pastry) and even Rice-a-Roni crawfish…)
All the recipes called for chopped onion and bell pepper. Most of them called for chopped celery too, but I didn't have any. Not all of them called for celery, though, so I figured I could leave it out. Some recipes didn't call for any cayenne or anything spicy. In fact, some recipes didn't call for any additional spices or herbs, or anything but the onions, bell peppers and celery, and I wanted Spice! There was one recipe that called for cream of celery soup and Rotel tomatoes. I don't have anything against Rotel, but we don't use cream-of soups here because they have wheat flour as a thickener and the fella's gluten-free. And in fact, most of the recipes called for a roux–flour and oil cooked brown. Which means I had to sub something else.
I decided on the first Crawfish Etouffee recipe in the Louisiana cookbook, mostly because it had the most spices in it. It also explained how to boil the whole crawfish, and called for "crawfish water" (aka, the water you cooked the crawfish in) in the recipe. Since I didn't boil my own crawfish and didn't have any crawfish water, I didn't drain the frozen crawfish, but put them en masse into my skillet, with the water from their package, and threw in a couple of seasonings from the boiling pot–like a bayleaf and some cayenne.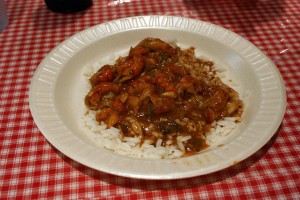 Not my recipe, but it looks similar
It turned out WONDERFUL. So, without further ado, here is the recipe for:
CRAWFISH ETOUFFEE, adapted to be gluten-free
1 pound (or so) cooked crawfish tails
1/4 cup butter
1 medium onion, chopped
1 bell pepper, chopped
2 ribs celery, chopped (or sub 1 tsp celery seed/salt)
3 cloves garlic, crushed/minced/pressed
1 Tablespoon tomato paste (I had some frozen, leftover from a previous recipe)
1/2 teaspoon basil
1/4 teaspoon thyme
1/4 teaspoon ground cloves (yes, really!)
1/4 teaspoon chili powder
1 Tablespoon lemon juice
1/2 cup crawfish water (here I added the 1/2 cup water, plus:
(1 bay leaf, and
(1/4 teaspoon red cayenne pepper, or to taste–I did just a smidge less than 1/4 tsp.)
1/2 cup water
salt and pepper to taste
1 Tablespoon cornstarch stirred into 1/4 cup cold water
The recipe also called for 1/2 cup chopped green onions and 2 Tablespoons chopped parsley for a final topping. I didn't have any, so I didn't use any. It also calls for 1/4 pound of butter, which I didn't notice until I was copying the recipe. I thought it said 1/4 cup, and so used a half-stick of butter, instead of a whole one. Half is plenty. (Actually, I reduced the recipe quite a bit, because this starts out with 10 pounds of whole crawdads.)
Start your rice cooking first. (If you're using a rice cooker–be sure to plug it in! I didn't notice mine wasn't, and probably simmered things too long.) Then start the etouffee.
Melt the butter in a large, heavy skillet. (I was afraid my cast iron skillet wouldn't be big enough, but it would be.) Add onions, bell pepper, celery and garlic, and saute over low heat about 20 minutes, or until the vegetables are very soft. Add the crawfish tails, tomato paste, seasonings and water. Mix well and simmer while your rice is cooking. (You may want to add more water. I did. It didn't look liquid-y enough. I probably added about another cup.) Taste it and adjust flavorings–after you are through dancing around and crowing about how tasty it is–it will need at least a little salt, maybe some pepper, though with the cayenne, maybe not. Cover and let it simmer another 5 minutes. Stir in the cornstarch and water mixture, cook and stir until the etouffee is slightly thickened.
Remove from the heat and allow to stand 5 to 10 minutes, covered, to allow the seasonings to blend. Serve over rice. (My rice was really moist and sticky, because I put in 2 of the little measuring cups of rice, and then forgot, and added water to cook 3 cups. It was actually really nice with the etouffee, all sticky like that.)
If you don't need gluten-free, or have a corn allergy, or something–add 2 Tablespoons of flour to the melted butter and brown it a little before you add the onions and such. That's the only difference. You can always substitute 1/2 the amount of cornstarch for flour, up to 1/2 cup of flour. And don't brown the cornstarch. Makes it taste funny. Kind of floury. Just add it at the end, like this.
Oh, and this would be really good with shrimp too. Crawfish is a little bit sweet (like lobster), but anything you can do with crawfish, you can do with shrimp. Go for it!