I've been thinking about this for a long time and finally, I'm doing something about it. Texas is an interesting place–mythical, in some ways. And yes, Texans often believe in their own myths, and even make them up as they go along. But some things–like geography–aren't mythical. Nor are they common knowledge. They're the kinds of things people might not realize if they haven't actually spent a lot of time in Texas. So, I'm going to try to write a series of articles about things in Texas that writers need to know.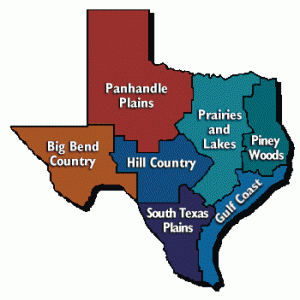 Some of those things are going to relate to mistakes I've read in books. Some of them might not relate to things specifically Texan, but more to generic small towns. A lot of them are going to relate to Texas geography. This will have relevance for those who write historical fiction set in Texas, as well as contemporary novels. Other posts will have to do with how things are run today in Texas, from politics to schools (which is pretty much more politics).
Just who do I think I am, you might be asking, to think I have the right to be writing these articles? It is true that I was not born in Texas. But my parents are both native Texans–my dad born in San Antonio and my mother in Crystal City (spinach capital of the US, complete with a statue of Popeye)–and my dad was in the Air Force when I was born, serving out his commitment to the country for helping him get his degree at Baylor University in Waco, Texas. I was a year old when we came back to Texas, and have lived here most of the time since.
More importantly, I've lived in Texas all of my adult life. I graduated from Baylor myself, where I met and married my fella, and we've been in Texas ever since. Most of our relatives live in various parts of Texas (I have a sister who lives in Idaho, but she's the only weird one–oh, and the daughter in Georgia. But that's all, till you get to cousins and nephews, and really, do they count? (Well, yes, but even then, there's not many out of state.)).
We raised our kids in Texas. The fella and I both attended 5A high schools in Arlington and Houston, respectively, and our children attended 3A and 1A schools. (More about the "As" in a later post.) The only part of Texas I haven't traveled to visit relatives is El Paso. Which is really more like New Mexico, and I've been there–though mostly in the northern parts. Believe me, I know Texas. So I'm going to do my best to assist all those writers out there who may not be quite so familiar with it.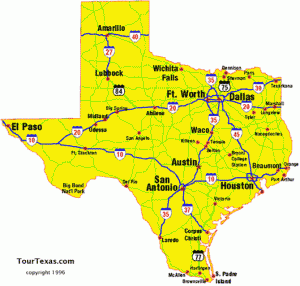 I'm going to start with basic geography and move from there into schools and government, but if you have a question about a particular thing, ask and I'll put up a blog about it.
And I'm going to finish up this blog with a little basic geography.
First, Texas is big. Yes, it's a cliche, but it's one of those things that are cliches because it's true. The thing is, there are a lot of big cities in Texas. There is no other state in the USA with as many cities as large as those in Texas–I'm talking 500,000-plus in the Metropolitan Statistical Area (city & suburbs)–and most Texans live in those large cities.
Most states have two cities this size, at most. California has three or four (is Sacramento that big?)(No, but San Jose is. So California has four). Texas has six: Houston, Dallas, San Antonio, Fort Worth, Austin and El Paso. (I don't know if that's in order, but I do know that Houston is the biggest of the six. It's No. 4 in the country, after New York, Los Angeles and a couple of others. (I know, I know))
Update: According to the February 2013 issue of Texas Monthly, the order in size of the Big Six is: Houston (2,145,933+), San Antonio (1,359,730+), Dallas (1,223,478+), Austin (820,601+), Fort Worth (780,758+), and El Paso (665,577+). The February issue was all about the big cities. Hmm. Even added together, Dallas and Fort Worth (which are 30 miles apart) do not equal Houston's population. And really, the cities are so different, you can't count them together. It would be as wrong as considering Minneapolis and St. Paul the same city. Only more so. End of Update.
Update again: According to the fella–and I checked, so he's right–those numbers speak to the population within the city limits alone. The metro areas of those cities are much larger. Just so you know… End of new update.
After the Big Six, there are a lot of cities in the 200,000 population range. That's as big as Pittsburgh, PA or Buffalo, NY. Those cities include Waco, Corpus Christi, Amarillo (Yes.), Lubbock, Wichita Falls, Midland and Odessa if you count them together, and maybe Beaumont, Laredo and Abilene. It's pretty hard to get anyplace in Texas without being reasonably close to a good-sized city.
And, if you'll take a gander at that top image, you might notice all those "regions" of Texas. They're pretty different from each other. I've lived in three of them and had relatives living in all the rest. Just think about that for a while, and I'll get back with another post about distance and geography by next Monday, if not before.
Remember, if you have questions, ask, and I'll do my best to answer them. I'll even look stuff up to have the exact answer and not just pop off from the top of my head.