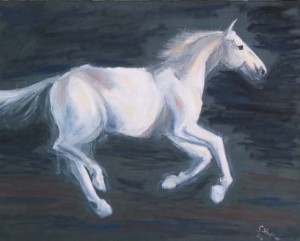 Yes, we are having a white Easter. Or we will if the snow doesn't melt off any more. This is Texas. It's not supposed to snow after the iris bloom. (I've been afraid to look at them since it got so cold today.) But it's out there snowing.
Yesterday, we had Art Club. That's why I had to hike over to the Methodist church. Except I didn't hike, because I had a big casserole dish hot out of the oven to carry over. So I loaded up my car and drove the half block to the church, then I drove back and parked in my drive, and walked back to the church. Across the street, past the parsonage to the alley just beyond it, down the alley maybe 5 yards/meters and in the back door of the church. That's how far it is. Yes, I'm a wuss. But I had to carry a big sack full of pans of rolls (Sister Shubert rolls are Teh Best!) too.
Then at the end, it had started to drizzle and was very cold, and I only had on my suit jacket, which had no buttons, and I had a lot of stuff to carry back home, so I walked home, clutching my jacket closed to stay warm, and got my vehicle, drove back, double-parked in the alley to load up, and drove back home again. Yeah, I know. I'm bad.
As the youngest of the hostesses, I appointed myself head server, running plates into the lunching ladies while Fredie Jo and Ruth and Frances served them up. (Rhenda couldn't be there.) (And I ain't exactly a spring chicken…) Then we ate lunch, and an artist from the little town around our county lake gave a talk about art. (Hey, it's the Art Club.) She brought three of her Western realistic paintings and talked about composition and color and perspective and stuff. I enjoyed it a lot, because composition is something I struggle with. Of course, I prefer a more impressionistic style (I am just not a big detail person.) and I tend to do more still lifes and landscapes, but maybe there's a story in the paintings… She said she likes for all her paintings to tell stories. And she paints horses and Indians and cowboys without any kind of reference or model!!! Needless to say, I felt totally intimidated. (sigh) These are my horse pictures–the race picture is supposed to look blurry.

Then I came home and wrote. I was really excited about getting so much writing done Thursday, and I was excited about where the story was, and about getting that much closer to the ending, so I got 5 pages written Friday. Which made me happy. Because that made 33.5 pages on New Blood for the week, and my goal was 30 pages. I'm almost through the trial. Just need to have them dismiss the charges for lack of evidence. Then we'll be at the kidnapping.
The son is home for Easter. He wants to pick up his power tools and some other things to take back to Baylor. We went in to town this morning because he announced that he really needed some shorts (and of course wanted Mom and Dad to spring for them), and we were thinking we could get there and back before the snow got bad. (Which we did, since it isn't snowing now at all.) But it snowed on us while we were in Amarillo–just on the side of town where the mall is.
And Penney's was having a sale, so I bought 2 pairs of pants–they were on sale, and then if you used a Penney's card, they'd give you more off. So I bought a T-shirt and a skirt the fella found and thought would look good on me, too. I'm getting rid of all my fat pants. I still had a few pairs I've been wearing, but I haven't lost enough to go down another size, so I'm getting rid of the big ones anyway. But I needed a couple more pairs of the right size. Then we went to one of the Japanese "cook it in front of you" restaurants. I discovered that I like Monkey Balls. Still don't like most "regular" sushi, but I liked the Monkey Balls…
And now we're home again, and since the boy is off hanging with his friends, I'd like to pull together a little synopsis for Old Spirits. Wish me luck.