So. It's New Year's Eve, 2007.
I remember when I was a little girl, looking ahead to the Year 2000, I thought–"Oh, I'll probably be dead by then."
Then I did the math. Turned out, I wouldn't even be 50 years old by then, so I probably wouldn't be dead. And boy am I glad I was right. Or wrong, whichever statement you choose to go by. I'm exceedingly glad to be here for the ringing in of 2008.
The Texas grandboys have gone home. The Pennsylvania grandboy will be leaving tomorrow. (With their respective parents.) The house will be (mostly) quiet again. I say "mostly" because our youngest child (and the granddog) are still here–but he sleeps so late, it's Mostly quiet.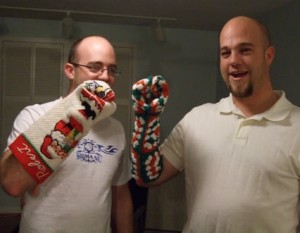 The holiday was wonderful, however. Lots of cool presents. Lots of great food. Lots and lots and lots of fun. For instance, the big boys had some puppet fun with their Christmas stockings. We laughed a lot–especially when the fingers came through the holes in the crocheted stocking to make teeth.
The littlest guy fell out of the tree. The middle grandboy poured all his candy out on the floor and went swimming in it. I don't remember what the oldest one did, but I know he was cute. He read some of his books for me. He found the pictures I've been trying to paint of him and his brother–and actually recognized who they were. So, even unfinished, I guess I'm doing okay.
We went to the candlelight Christmas eve service with the whole horde, and the little boys did really good. The middle boy (the autistic one) saw all the candles and made the connection with Jesus' birthday, and started singing "Happy birthday, Jesus" (to his own tune) right at the end of the candlelighting–when it was very quiet–and so the pastor just went with it and had the congregation sing "Happy Birthday" to Jesus, while the boy's parents quietly blushed with embarrassment. Nobody else had a problem with his song, but they were embarrassed. I thought it was cute.
So now, it's the New Year. Back to real life on Wednesday. Sending the last of them home tomorrow. I'll try to get back here before then to update all the other fun stuff we've done, but for now–I have to go get ready for the black-tie party we're fixing to head off to. (Yes, FIXING–I'm a Texan. Deal with it.)
I'll show off the fancy duds and the necklace the daughter made for me as soon as I can get around to it.