Summer has arrived on the island. It's not as hot yet as it will get in July or August–we've got at least 10 degrees to go for that, but it's consistently reaching 85 F (29.5 C) by 1 p.m. In a lot of places, it doesn't get that warm in the height of summer, but we're not out of spring yet.
I still haven't downloaded my Valley Mills pictures–the son borrowed my camera cord, I asked him to put it on my desk, but I can't find it. Wondering if I buried it, or if it's still on his desk.
Anyway, I thought I'd blog about the books I've been reading, because I've been reading a lot. I picked up several hardbacks at the library that I'd been wanting to read, but resisting because I didn't want to spend the bucks to buy them. And I've been reading through the RITA finalists–at least the categories that I read ordinarily. I don't read a whole lot of romantic suspense in my "regular" reading, so I haven't put any of those on my "TBR" list. I have read all the historicals, and I think I'm almost through the series contemporary romance. I've read a few of the Novel with Romantic Elements entries. And I've enjoyed them all. I have two now–a series romance, and a NRE, both finalists, both by Christie Ridgeway.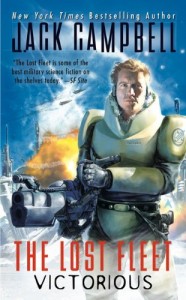 But I haven't got round to them, because I had to read the last book in The Lost Fleet series: Victorious, by Jack Campbell.
I've enjoyed these books from the very first one, and Victorious is a satisfying conclusion to the six book series. It hits all the notes and wraps up all the loose ends, (the big ones, anyway) and even lets the hero get the girl. Campbell's not a particularly romantic writer, but there is a hint of romance, and I like the way he handles it. It fits the characters and the story. And there is the possibility of a new series in this same universe. Yes, the loose ends are tied up, but you know how it is with life (even life in space). There's always something. Politics and human nature can always create conflict (necessary for a book), and when you throw mysterious aliens into the mix… Well, I do have hopes.
I've also been to the library and brought home some hardbacks I wanted to read, but wasn't sure I wanted to spring for. I've read Fantasy in Death by J.D. Robb–it's a locked-room mystery. I liked it a lot, and especially enjoyed the banter between Eve and Peabody. (The conversation about penises going on vacation cracked me up.) A very satisfying read.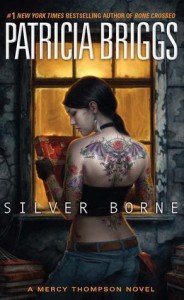 I also got Patricia Briggs's Silver Borne in which Mercy deals with fae and werewolves and friends. Hmm. Yeah, okay–the same but different, and totally enjoyable. Mercy was dealing with her new relationship with the werewolf alpha, and fae who wanted things from her, and still dealing with the fallout of what happened to her a couple of books ago. Liked it a lot.
I picked up some paperback romances, but can't for the life of me remember what they were… One was a Stephanie Laurens. To Distraction. Not one of my favorites, but readable. I've gone back since I got those, and this time, I got If His Kiss is Wicked by Jo Goodman. She uses very formal, very historical sounding language. I enjoyed the book, but it was slower to get through than books by others. In this one, the heroine is kidnapped in the prologue, and in chapter 1 goes to the hero, because she thinks she was kidnapped by mistake, and her cousin is in danger. She was also brutally beaten, and suffers from PTSD because of it, and much of the book is about the hero trying to help her recover, and trying to protect her. It's a very good book, with a slow revealing of who the villain is and just what has been going on. It has a gothic feel, though (thank goodness) the hero is never suspect. Just everybody else.
Reading, reading, reading. And I can't remember half of them. Drat. I may have to go back to the library and look.