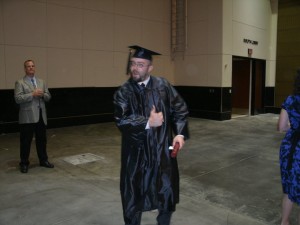 Yes, the moment has arrived. The youngest son has graduated. He's done. Through. Finished. Complete–or his degree is anyway.
The grandboys were thoroughly bored sitting through the graduation. They got up to go to the bathroom at least three times, each. And had to stop to talk to their Dad, who was waiting to take pictures on the sidelines, on the way to and from. But they were good, except for whining about being bored.
The son is taking a week off to sleep, and play a little bit. Then he's going to hit the job hunt. There are thousands and thousands of just-graduated students all hitting the job hunt at the same time, but I don't imagine too many of them have degrees in marine engineering technology. Hopefully, that will give him an advantage…in something.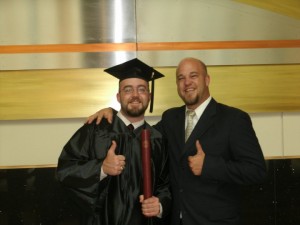 Our two boys look a lot alike, don't they? (It's the hairline, and the chin.) Some of Rob's friends were asking if they were twins, but no. Rhys is 6 years older. We were glad he got to come down. It would have been great to have their sister down for graduation too, but she was in Italy. Sardinia, to be precise.
We ate all our food–had lots left over. I had strawberries on my waffles for breakfast, and made shrimp enchilada casserole (I didn't have enough actual corn tortillas to make enchiladas, so I used tortilla chips and layered things.) with leftover grilled shrimps. Yum. We did away with the 10 pounds of potato salad pretty quickly… (Ten pounds of potatoes makes 10 pounds of potato salad, right? You may take off the peelings, but you add eggs and pickles and mayo and mustard and pickle juice, right?) (Yeah, I made that much potato salad. And I ate the last little bit for my Sunday night supper.)
We went to the girlfriend's graduation party on Sunday, and left the boy there to visit for his week of sleeping. He might come home during the week. Don't know. They came to go to Schlitterbahn (the water park, which the littlest grandboy calls "Slitherbonn") today, but it was closed. So we had lunch, Rob got the oil changed in his car, and they're going back to the Big H to play putt-putt.
I am trying to get back into a rhythm, but so far, it ain't happening. Maybe tomorrow. Today is my RWA meeting for Houston Bay Area Chapter. We're having a workshop on Tarot for Writers by Arwen Lynch. I'm looking forward to it. I dug out my five extra Tarot decks to pass around for people to look at.
Tomorrow is soon enough to get myself together, right? Right.