Yes, for the very first time ever in my whole life, I got to go to Niagara Falls. You will notice that there are no pictures of the falls, or of the beautifal fall leaves in Canada (we stayed on the Canadian side of the river, because after 3 days in Niagara Falls, we went to Toronto for 4 more days). This is because I left the camera in the rental car when we got back to Buffalo to fly back home. We took lots and lots of pictures, but… I am sick about it, but what can you do?
Anyway, we had a wonderful experience. You can see Niagara Falls in movies and on TV, and it looks really amazing and impressive, but honey, believe me when I say that it still doesn't prepare you for how much MORE impressive and amazing and everything it looks when you see it in person. We went on the Maid of the Mist boat ride. We went in the tunnels behind the falls (not much to see, really, but white water & mist). We drove up the river to Fort Erie, Ont. to look at the fort, but it was closed. Still, it was a really nice drive down the river. When we left Niagara Falls, we drove north, down the river (it really felt weird to be going downriver, and north at the same time), to Niagara-on-the-Lake and stopped at one of the ice wine wineries, then on around Lake Ontario to Toronto.
At Toronto, I wrote a little bit, but it's a very interesting city, and we were right in the middle of it–across the street from city hall. I did not realize that Hudson's Bay Company was still in existence. It is now the largest department store in Canada. I went. Didn't buy anything, except breakfast one morning. I went to the Bata Shoe Museum, and while it did have some gorgeous and glamorous designer shoes, I found the "history of shoes" exhibit and the rotating exhibit on native American moccasins the most fascinating. Flip-flops have a Loooooooong history. 😉 (Egyptians wore flipflops)
We did Chinatown, and rode across to Toronto Island, which creates the harborfront in Toronto. Their seawall, along the island, was a LOT chillier than our seawall… We just had a good time, and ate at a lot of good places. I had rabbit pasta–first time I ever ate rabbit… I just hate that I lost the dadgum camera. Sigh. (I also lost an earring. One of my new black ones. Grr.)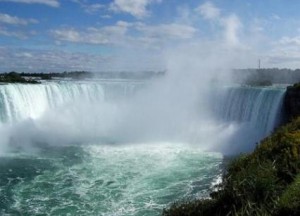 Okay, I can't do it. I have to put at least one picture in. Yes, the water really is that green. And there's a lot more city around the falls than I thought. I had this mental image of the falls being isolated way out in the country, somewhere you had to drive to for hours and hours, but it's not. You fly into the Buffalo, NY, airport, and 20 minutes later, you're there. Niagara Falls. With city on both sides of the river. Though the US side has a state park. We stayed in a hotel next to a casino with a fabulous view of the falls. I just loved it.
And now I am back home in sunny Galveston, where the cold front takes the temperatures down to a balmy 72F/22C instead of the 50F/10C it was while we were in Toronto (which was the coldest it got–really, it was lovely most of the time. They still had roses blooming at the botanical gardens!). I admit it–I have lost all my antifreeze. I am a wimp when it comes to cold weather. But really–we had a great time in Canada.