'Tis the season for literary awards, or the genre awards, anyway. The Edgar Awards, presented by the Mystery Writers of America, will be announced April 28. The Nebula Awards of the Science Fiction and Fantasy Writers of America, will be announced May 21. The Hugo Awards, presented by the World Science Fiction Convention, just passed its deadline for nominations March 26.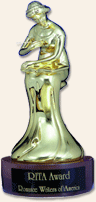 And on March 25, the phone calls went out to the finalists in the RITA Awards, presented by the Romance Writers of America. So of course, I had to zip on over to the website and see how many of the books in the finals I'd read.
There are 12 categories for the RITA awards. There are only six Nebula categories, including one for short story, novelette, novella and screenplay, but then the science fiction/fantasy market is about half that of romance.There are 15 categories in the Hugo, but three are for people, and a bunch of others are for screenplays and stuff. Anyway, I was pleasantly surprised to see that I had read quite a few of the RITA finalists.
I've read five books in each of the historical romance categories In Best Historical Romance, they are: The Forbidden Rose by Joanne Bourne; His at Night by Sherry Thomas; A Kiss at Midnight by Eloisa James; Last Night's Scandal by Loretta Chase, and A Little Bit Wild by Victoria Dahl. And in Best Regency Historical Romance, I've read: Nine Rules to Break When Romancing a Rake by Sarah MacLean; Provocative in Pearls by Madeline Hunter; Twice Tempted by a Rogue by Tessa Dare; When Harry Met Molly by Kieran Kramer, and The Wicked Wyckerly by Patricia Rice. That leaves three books unread in either category.
In the Best First Book category, I've read When Harry Met Molly.
In the Contemporary Series Romance category, I've read Christmas with Her Boss by Marion Lennox and Dare She Date the Dreamy Doc? by Sarah Morgan.
In the Contemporary Single-Title Romance category, I've read Happy Ever After by Nora Roberts and Nothing But Trouble by Rachel Gibson.
In the Inspirational Romance category, I've read Maid to Match by Deeanne Gist.
In the Novel with Strong Romantic Elements, I've read The Dead Travel Fast by Deanna Raybourn and Welcome to Harmony by Jodi Thomas.
In the Paranormal Romance category, I've read Immortal Sea by Virginia Kantra. (I know! I can't believe I haven't read more of them, or else that more of the ones I read didn't make the finals!)
In the Romantic Suspense category, I've read Two Lethal Lies by Annie Solomon.
I haven't read any of the books in the Young Adult, Novella, or Contemporary Series Romance: Suspense/Adventure. I just haven't got around to the YA books. I don't care for novellas, because they're too short, given how fast I read. And I'm a real wimp when it comes to suspense books. The only reason I read the Annie Solomon book is because I got it free–from GoodReads, I think. It's a very good book–but I am such a wimp, it scared me really bad and I had a hard time reading it. I'm just too much of a scaredy cat. Probably because of those years working for a prosecutor. When you've looked real sociopaths in the eye, it's really not much fun to read about them.
Anyway, I have now put most of the RITA finalists on my TBR list–and have already picked up and read Lead Me On by Victoria Dahl, which is a Contemporary Single-Title nominee. I'm not going to make myself read the RomSus books, because I wallow in my wimpitude. And if the books cost more than a paperback, I may see if I can get them at the library. But I'm going to give it the old college try. Maybe even try to read them before the RITA ceremonies in New York in early July.
And since I put all these RITA books on my list, I bebopped on over to the other lists to see what they had. I already have some of the Nebula Books on my list, and I own The Native Star, by M.K. Hobson, but I haven't read any of them yet. (Sigh.) And since they're announcing soon, I'm not even going to try to read them before then. But I'm going to put a couple more on my list, or at least try to figure out where I can read the shorter stories, even though I really don't much like short form fiction. I also added a few books from the Edgars list, though I'm wary of those, given my wimpitude, but I did add a Young Adult mystery, Dust City, by Robert Paul Weston, about a young werewolf at the Home for Wayward Wolves. I think I added a book from a series about Freud & friends as detectives. And when the Hugos finish tabulating their votes, I'll probably snag a few to-reads from that list.
You'll find the Nebula nominees at sfwa.org, the Edgar nominees at www.theedgars.com and the RITA nominees at www.rwa.org. The Hugo site is www.thehugoawards.org. Surely they'll have their finalists up fairly soon. Most of the sites have a prominent link for their latest awards nominees (You kind of have to hunt for the Nebulas, which is why I linked directly). Go forth and find yourself some good books to read.
Tell me which ones you've read–or which you really liked, and which ones you're tempted to try…