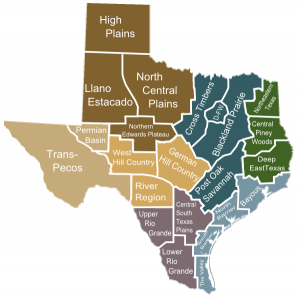 So. In this blogpost, I am going to write about the South Texas Plains. You will see that the region is divided into the Central South Texas Plains, the Upper Rio Grande and the Lower Rio Grande. I will be honest with you. I've never lived in this part of Texas. My dad grew up in San Antonio, and the fella had an uncle who lived in Laredo a decade or so, but other than that, I've mostly just driven across it a couple of times, and that was a while ago. So I'm going to have to do a fair bit of research on this. Which is kind of the point. The information is there, if one will go out and look for it.
Daddy was an army brat–his dad joined up for WWI and retired before I was born. (I am a Texan. My father was Daddy till the day he died, and my mother's father was too. The fella is Grandaddy, as is his father. Our children get away with calling him Dad.) His family lived in San Antonio in what our Latino friends called "the bad part of town" while I was growing up. The house was just down the street from the old Mission Ballpark. It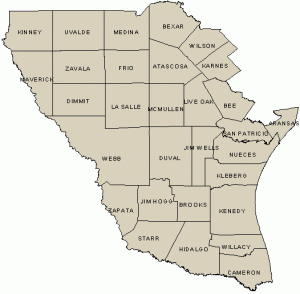 South Texas plains does not include coastal counties
was across the street from a city park and playground through which the San Antonio River ran. That part of the river isn't dammed up and restrained like the part that runs through downtown and the Riverwalk. When I was little, the Riverwalk was pretty barren. No restaurants with outdoor dining or water taxi tours. That started up mostly when Hemisfair came to San Antonio, when I was just starting high school. (Yes, I am dating myself here.) The river in the park sometimes flooded, and sometimes it was just puddles and we would go play in the river bed.
When my Aunt Mary was getting married in the big old house, they sent all the uncles (and Daddy) out with all the kids (mostly just me and my siblings) to tour all the missions in San Antonio. There are a lot of missions in San Antonio. We did the San Jose Mission (San Jose y San Miguel de Aguayo), Concepcion Mission (Nuestra Senora de la Purisma Concepcion de Acuna), San Juan Capistrano (yes, there is one in Texas, too), San Francisco de la Espada, and we may have gone to the Alamo as well (AKA Mission San Antonio de Valero). Mostly I remember chasing a lot of peacocks and noticing that all the giant blue agave plants on the mission grounds–the plants that
tequila is made from–had initials carved in their thick leaves. I tried carving my own, using one of the needles pulled off the end of the leaf. These plants were huge–five feet or more tall and as big around. Much bigger than the ones they harvest for tequila…
San Antonio is the second biggest city in Texas and one of the fastest growing in the country. It sprawls in all directions, like most Texas cities. It has some very wealthy and beautiful sections and some dirt poor sections like the one that grew up around my grandparents' house. San Antonio streets have their issues. Because the San Antonio climate tends to be dry, there are a lot of low water crossings–places that fill up with water when it rains. But since it doesn't rain often, they don't get around to building bridges. Which means that when San Antonio has one of its frequent flash floods–because when it rains in the area, it tends to rain really hard and then quit–they tend to have a lot of people get swept away in the flash floods because the drivers drive around the railroad-crossing-type barricades. It's getting better than it used to be, but they still lose a few teenagers every year.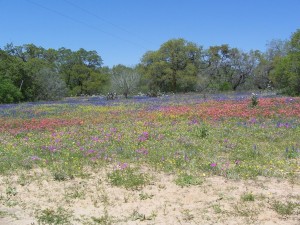 Southeast of San Antonio, toward Floresville
You can drive southwest-ish from San Antonio and reach Laredo on the border in a couple of hours. You can drive southeast and get to Corpus Christi in only a few more. San Antonio is in Bexar County and Laredo is in Webb. Corpus is in Nueces County, but it's on the coast, so it's rightfully part of the coastal geographic region. Just as East Texas is more than the Piney Woods, South Texas is more than just the Plains. East Texas is everything east of Interstate 45. South Texas is pretty much everything south of San Antonio. You will note in those diagrams up above that in both of them, South Texas angles southerly down toward San Patricio and Aransas (pronounced a-RAN-zuss, if you'll recall) Counties. So you can't draw a line along Interstate 10, which connects San Antonio and Houston, and say everything south of that is South Texas. Because it angles. The Houston TV stations like to talk about Houston being in South Texas, but it isn't. It's sort of in South East Texas. Sort of. But San Antonio is definitely considered the gateway to South Texas.
San Antonio is the "big city" in South Texas. Laredo is the second largest city at 244,000+ population if we're discounting the row of coastal counties. If we kick all of those out, we're left with McAllen (over 100,000), Edinburg (81,000) and smaller towns. (Of course, kicking the coastal counties out only deprives us of the large cities of Corpus Christi and Brownsville…) There are plenty of small towns in South Texas, and plenty of ranches. Just remember, this is south Texas. Close to the Mexican border.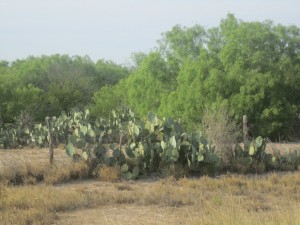 As you go north along the Rio Grande, you get into more and more hills and bluffs and gulleys, but before it gets very hilly, you're in the Hill Country, which does bump up against the border. Mostly, South Texas is plains. It's more of the flat countryside. In the spring, you will see wildflowers. Otherwise, it's pretty much just mesquite trees, prickly pears and more or less grass, depending on how dry the year has been. A lot of the time, the grass is the same color as the dirt, so you can't necessarily tell how dry it's been. I remember being very bored by the landscape, driving both to Laredo and to Corpus. And I don't remember the mesquite trees being as big as the ones in this picture. I remember them being about as tall as the prickly pears. This scene is pretty typical however all across the state. I've seen places like it in the Panhandle and all the way south to the Rio Grande.
Mesquites are nasty trees. I mean, if they're all you have for shade, then okay. But they're bad in pastures because they suck up all the available moisture and make the grass more scarce. The cows will eat the mesquite beans, if they have nothing else, and then poop out the seeds and help spread the trees. I think this may be why mesquite has become so popular as wood for barbecue. Because the ranchers want them out of their fields, and if somebody will buy the wood, even better. But it does make good barbecue… (Mesquite trees also have thorns. Mesquites are a large part of the reason for chaps.)
"Chamuscando"
Cows will eat a lot of things if they're hungry enough. My mother tells stories about helping to burn the spines off prickly pear pads when she was a little girl so the cows wouldn't get them in their mouths. She and her sisters would put the prickly pears on sticks and hold them over the fire–just like they did back in the 1700s when the Spanish and the Mexicans held Texas. Nowdays, they use a sort of flamethrower. The old Spanish word for burning off the spines is chamuscando. Which apparently means "burning spines off prickly pears."
If you don't burn the spines off the prickly pears, the cows will eat them anyway and get the spines all in their mouths–and prickly pears? They have big spines arranged sporadically like polka-dots across both sides, and surrounding those big spines? There are hundreds of tiny, hairlike spines that are murder to get out. (Yes, I have been stabbed by prickly pears. Both kinds of spines.) And they hurt like the devil when you get punctured with them. The poor cows don't get much good out of eating the pears–they're mostly fiber and moisture, but they fill their bellies. And if the spines don't get burned off, the cows will be walking around with their mouths all swollen up and sore from the spines stuck in there. Poor cows.
Panhandle Prickly Pear
The South Texas Plains are dry. They're flat. But they're not desert. Quite. There's lots of brush and mesquite trees and grass. The plains support lots and lots of deer, hogs, and cattle. Turkeys and quail, javelina–which are different from feral hogs. The mountain desert in New Mexico and Arizona will support quite a bit of wildlife too, but not as much as South Texas. It's a brushy dry. And there are still a lot of wildflowers. Even prickly pears bloom. You ever see one?
I took this picture. It's a Panhandle prickly pear, but they all look the same whatever part of Texas they're in. Note the spines across the pads? Every one of those big ones is surrounded by a host of those tiny ones. They're used in Mexican cooking. The pads as well as the fruit. Nopalitos are prickly pear, if you ever happen to see them in a grocery store or restaurant menu. And yes, they do take the spines off before cooking them. Or even bringing them into the store. (In fact, I think they're peeled…)
This is the part of the state that used to have uranium mines–mostly surface mines. It's the part of the state that's getting torn up by fracking. The big trucks are tearing up the roads, along with the water-that-catches-fire stuff you get elsewhere. The locals are not happy, but the state powers-that-be don't listen too well. (sigh.)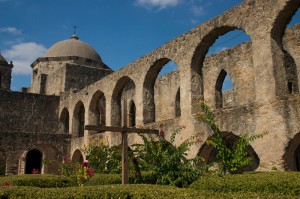 Mission San Jose in San Antonio
I feel like I should be telling you more, but I'm not sure what to say. The terrain really does look pretty much the same all across the region. There are hills and gulleys, so individual places are different, but overall… it's brushy plains. I've given you all the anecdotes I can think of. Um–no, I'll save that one for when I'm talking about Texas politics.
Anything else I come up with would be from things I've researched. And that's your job. Look at a map. Look at the images that Google pulls up. Read the Wikipedia entry on South Texas. At the very least. I would recommend just putting South Texas as your search term for images, because when I put in South Texas Plains, I got a lot of Panhandle images. Not a whole lot different, to be honest, because the plains in South Texas are just the southernmost point of the Great Plains that start up in Canada. Think of it as plains rather than desert, and you'll probably get closer to right.
Not trying to be comprehensive or definitive. Just trying to get folks to think about what Texas really is, and maybe point a few writers in the right direction for research. Hope I'm helpful.