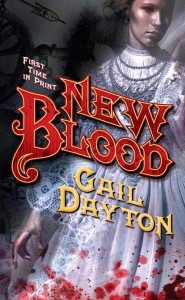 This is it. The official cover for the upcoming book. New Blood by Gail Dayton, coming from Tor Books in March 2009.
I really like it. Note the Victorian-era type font for the title. See the spiffy steampunk-y gears and such in the background. Note the heroine's white dress. And yeah, there's blood on her skirt. But there are no vampires. Just magic.
It's totally different from pretty much everything out there, and ought to catch a few eyes. I'm hoping they're willing to give it a chance. And the blood? There's really not that much spilled in the story. Drops here and there. Well, except during the sword fight. But it's not like buckets-o-blood or total gore or anything. It's a really good book.
Nalini Singh says so. And y'all like Nalini Singh's books, right? After she read it, she send me an e-mail. "Read it. Loved it. Must have more." Yep, she said that. Thrilled me no end. So anyway, that's the cover.
I mailed my page proofs back on Tuesday. I drove across the causeway to do it Monday, without realizing it was Columbus Day–did not have a clue it was a holiday–but I was still able to go pick up the router and cable we needed to set up the back-up computer, so it wasn't a total waste of the drive. I drove back across (it's only about 3 miles of bridge, but it's another 10 miles to reach "civilization") Tuesday and picked up the mail and got directions to the Hitchcock post office, which is supposedly easier to find than the La Marque post office. I also rewarded myself by going to the closest mall and buying Robin D. Owens' new release (Heart Fate). Then I promptly got lost trying to find the Hitchcock post office. Which was dumb, because it is right there on Hwy. 6. But I turned the wrong way. If I'd turned the other way–if I'd even LOOKED the other way–I probably would have seen it. Anyway, I turned back before I got all the way into Bayou Vista (an actual town, but without its own post office), so didn't take too much time. I'll know for the next time.
Because, even though they're talking about bringing in trailers to give out the box mail at the downtown post office in the next week or two, and have "mobile post offices" to sell stamps and stuff, they still don't have the machines to weigh and dispense parcel postage. If I need to mail a manuscript or books or contest winnings (which I NEED to do, for a contest at the 2 B Read blog), I still have to drive to a "real" post office. Which also gives me an excuse to go back to the mall and browse the bookstore…
(Not that I really need excuses…)
Still with the slogging on the book. They're about to discover the second murdered body. They stayed up all night hoping to thwart the murderer, but Nooooo– (Bwah-ha-hah! rubbing hands snidely whiplash-ly) No, it's another dead body. This one deposited by an actual demon in a popular park.
So. In island news–we had a rainstorm Monday, and a whole bunch of the stop lights that had actually started working normally Quit, again. I think every stoplight on 53rd street had finally started working right, then the rain came and boom! None of them worked. It was back to 4-way stop sign rules. I think all but one were working properly again today. Avenue O is still being a little hinky. Before-Ike, it was the Avenue Q stoplight that went out every time it rained. Oh well. Three steps forward, one step back.
We went out and drove around the West End over the weekend–the devastation there is just heartbreaking. I got pictures of ONE of the giant trash piles on the island. I'll put them up once I get them downloaded.